If you are an existing Procorem user, you have probably encountered Procorem's new Task feature. Released in March of 2023, this new feature is a powerful workflow tool that helps Procorem users view Tasks in a more organized and systematic manner.
How Procorem's Task Feature Works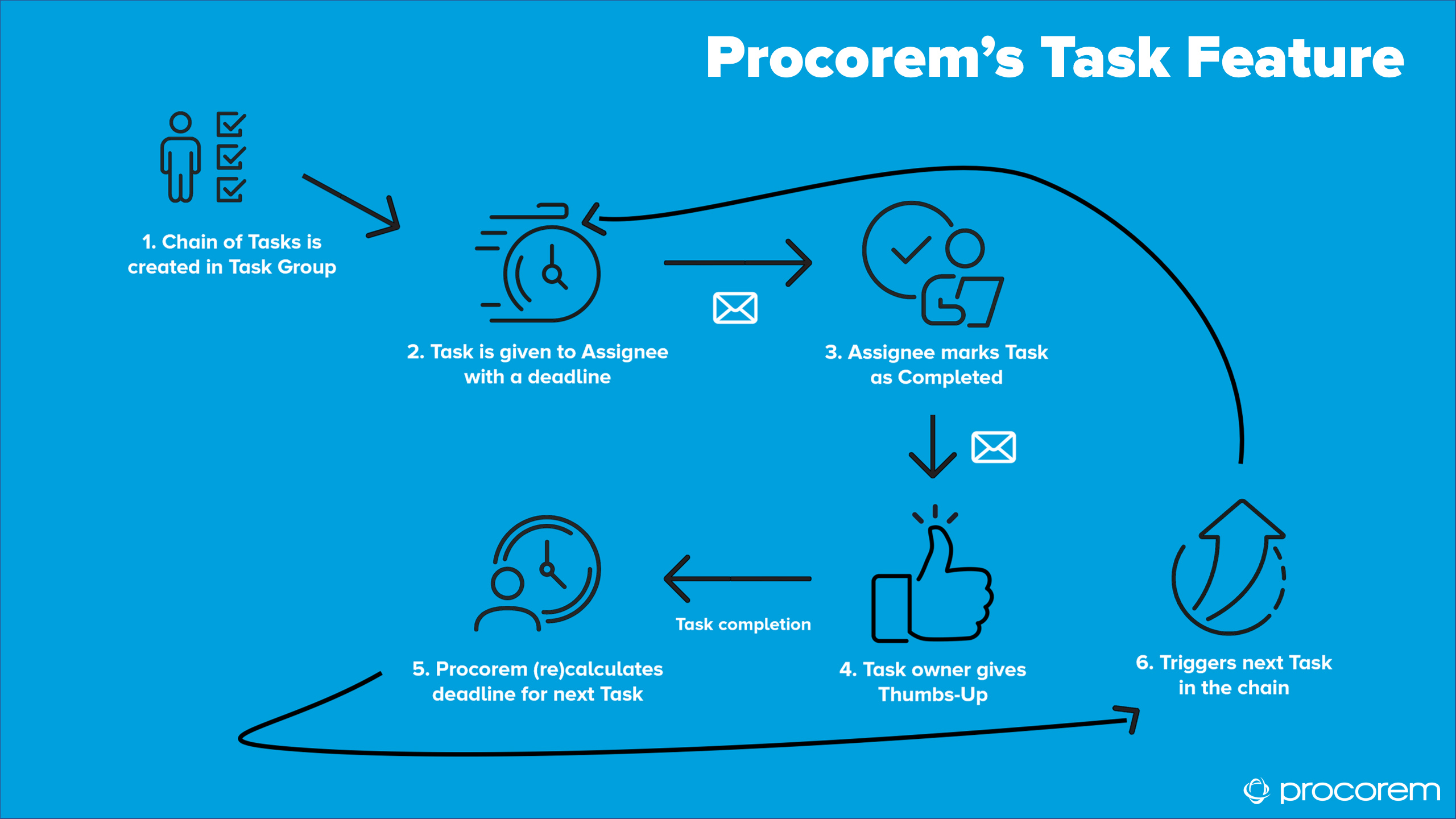 A chain, or sequence, of Tasks using dependencies is created in a Task Group.
Each Task is assigned to someone and has a deadline associated with it.
An email notification is sent with a link that helps the Assignee navigate back to the Task and puts a Check Mark to indicate that the Task has been completed.
The Task Owner is notified upon completion of the Task. The Task Owner navigates to the Task and give a Thumbs-up to indicate his/her approval of the Task completion.
When a preceding Task is completed, based on the duration for the subsequent Task, Procorem automatically calculates and adds a deadline for the subsequent Task and notifies the person(s) who is assigned to the Task.
This triggers activation of the next Task in the chain.
Using Procorem's Task Feature
In Procorem's Task page, you will see a new Task Overview button at the top of the page.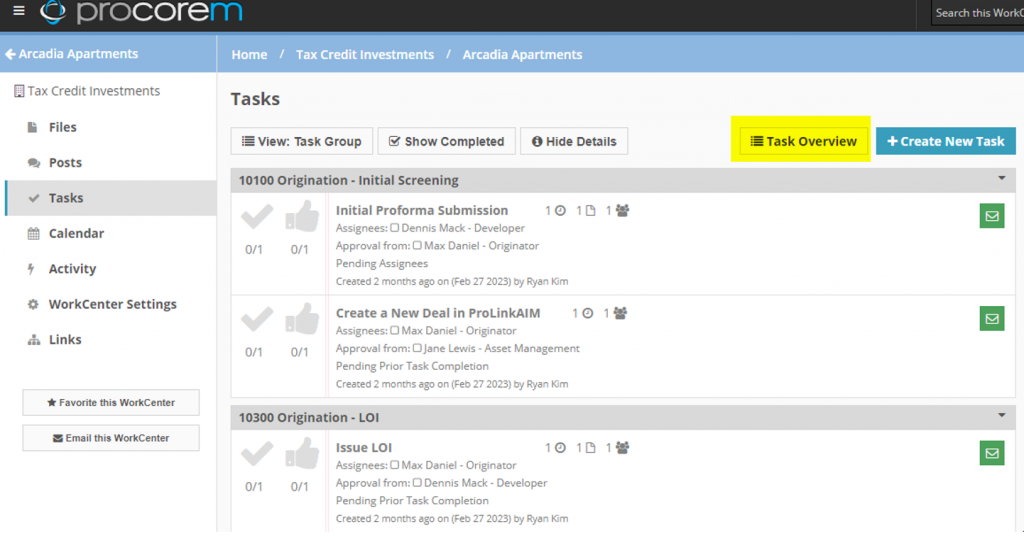 When you click on this button, the Task Overview page opens in a separate tab. By default, all Tasks in the WorkCenter are listed on the page, and are grouped by Task Group. You can regroup the list by any other available columns, such as Status or Associated Roles, by dragging the Column Header and dropping it in the blank space immediately above the Column Headers.

Once Grouping is done, you can filter the list by clicking on the Filter Icon in any column and select an item(s) from the dropdown. At any point, you can hit either of the Export buttons to generate an Excel or PDF output of the list.

As always with a new release, we value your feedback as it helps us to improve our functionality to more closely align with your business. If you ever have any questions, or would like a little more guidance on how Procorem's Task Overview can support your business, please don't hesitate to reach out to us at marketing@prolinksolutions.com.
If you are interested in learning more about the new Task Overview feature, ProLink is hosting a webinar on Wednesday, May 3rd at 3 p.m. ET titled "Improved Workflow and Task Management". Tom Royal, Product Manager at ProLink, will be providing a live demo with a deeper dive into the Task Overview feature. You can register by clicking here.