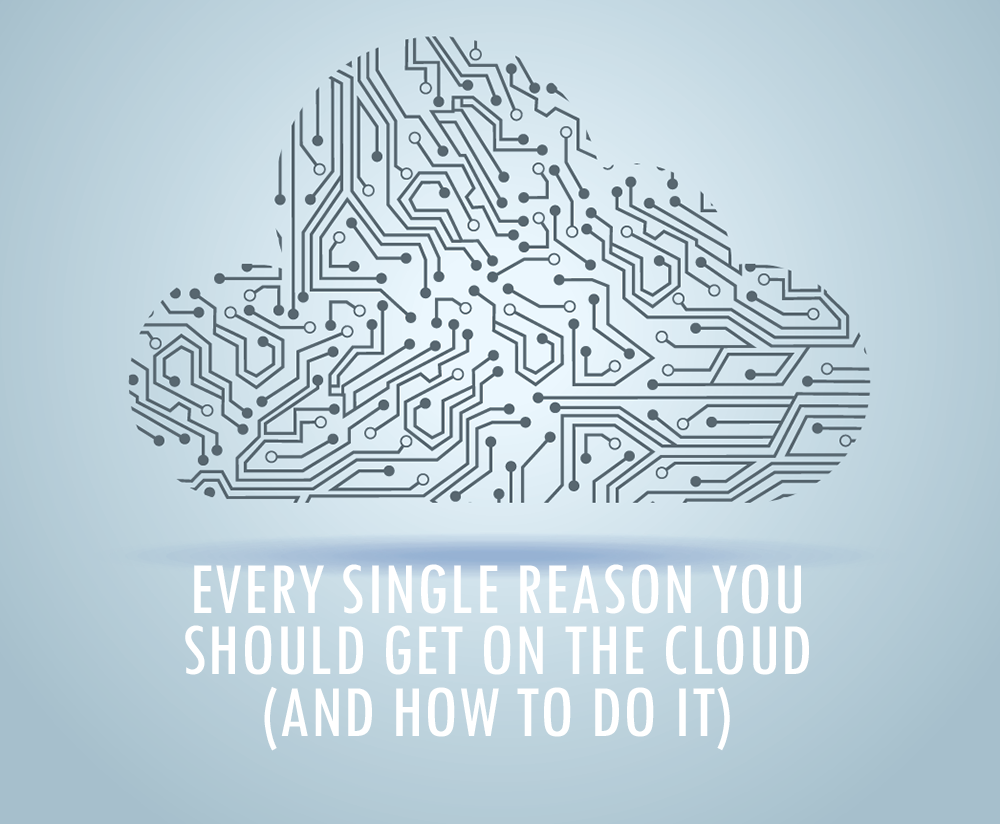 You keep hearing about the cloud. It's new! It's important! It's innovative! It's the IT trend of the year!
Which is all great, of course. But you rightly observe: none of that necessarily makes it a good idea. So how do you know if it's the right choice for your organization?  And if it is the right choice, how do you get started?
Below, we've listed every single reason (okay, 9 reasons) to use the cloud, and given you some tips on how to start using it.
1. It's fast to set up.
Unlike adopting more traditional technology, setting up a cloud service for your organization takes a matter of hours instead of weeks. You don't have to spend time researching, buying, and setting up new servers, and you don't have to invest time in training everyone to keep things running smoothly.
2. It's cost-effective.
You can eliminate an upfront capital expenditure because there's no purchase (or maintenance) of servers. Instead, you have an operating expense—your predictable monthly fee. If something goes haywire on one of the servers, you don't have to deal with that headache—and you certainly don't have to foot the bill.
You pay for what you use. If your company has seasonal needs, a cloud solution is perfect. "One of the thorniest challenges facing enterprises is how to cope with peaks and troughs of demand," explains IT pro Maxwell Cooter. "Previously, the CIO would have had to prepare the infrastructure to cope with peak traffic—even if that meant over-provisioning for about 95 percent of the year. Relying on a cloud-based infrastructure means that organizations are able to cope with these changes with greater flexibility."
3. You can get access from anywhere.
Whether your staff is on the road or working from home, they can stay on task when their work is saved in the cloud. There's no reason they should be constrained by location if you provide the tools they need to stay productive. It also means that offices located in different states and time zones can more effectively collaborate on the same projects and documents.
4. Your company can focus on core competencies.
If your organization is not a tech company, there's a good chance that technology is not what most of your staff excels in or what your executive team best understands. That's okay—your organization should focus on your prime mission and core competencies. Let someone else handle what they're best at—your tech and security needs.
5. You can keep information centralized.
"Data scatter"—when important documents are saved on hard drives, thumb drives, shared drives, Google Drive, etc.—can become a huge problem, especially if someone gets sick or leaves suddenly without telling anyone where files are stored. Using a cloud solution allows you to consolidate documents to one central location. This allows you—and everyone else—to find information fast.
6. You can share information more easily.
Information often needs to be shared with colleagues, whether they're in the same department, on the executive team, or with a partner organization. Sharing documents and data with them becomes much easier when it's stored on the cloud. Instead of saving it to your desktop from a shared internal drive, attaching it to an email, and sending it (with fingers crossed that the file size isn't too large), you can send it to them directly from your cloud dashboard, or give them limited access to your cloud so they can download the document on their own.
7. Your technology is always up-to-date.
Software updates and patches, new code additions for security, app upgrade downloads… when you work with a cloud service provider, you shouldn't have to worry about those things. That's their job, and part of the reason you ought to consider utilizing the cloud. Niharika Trvidei, an IT pro with IBM, agrees. "[The] cloud helps organizations achieve their desired business outcomes by improving the responsiveness of their IT infrastructure without increasing risk or cost," he explains. Any servers or software related to your cloud service should be working seamlessly with no extra effort from you.
8. You have as much storage space as you need.
Cloud storage can scale as your company's needs grow. You don't have to plan a year ahead of time to invest in new servers to accommodate a projected need—you can wait until the need actually exists, then increase your storage space by alerting your solution provider. You'll only have to pay for what you use!
9. You'll have better data security.
This absolutely flies in the face of what most people think about cloud solutions and security. But according to a survey conducted by comScore (and commissioned by Microsoft), 94% of the companies polled that currently use cloud services gained security benefits they did not have when using on-premises technology. Additionally, 62% said they had increased privacy protection and 75% said their service availability was improved.
So, is the cloud right for your company? If you think it might be, reach out to us today, or sign up here!